Throwaway Style is a monthly column  dedicated to examining all aspects of the Northwest music scene. Whether it's a new artist making waves, headlines affecting local talent, or reflecting on some of the music that's been a foundation in our region; this space celebrates everything happening in the Northwest region, the first Thursday of every new month on KEXP.org.
---
I. SUMMER
Looking up at the sky, there is a post-apocalyptic feel. Tall trees far away – the trees; a big part of why I have no problem living in the Pacific Northwest for the rest of my life is by simple virtue of there being trees everywhere – burn underneath the dry heat; they haven't seen rain in weeks. The Mad Max backdrop of the atmosphere above is the sky being choked by smoke, the sun just a dull, reddish orb behind the blanket of ash falling to the ground.
It's hot as hell, a seemingly endless stream of 85-plus-degree days, and my lady is taking pictures of the tan lines on my feet. We sleep under a sheet while the fan is on full blast. She carries one of the warmer bodies of anybody I've shared a bed with, so I sweat in my sleep.
Though I can certainly appreciate the opposite (please cite my unabiding love for Personal and the Pizzas), I do find myself examining the corners of the occasional high-concept rock album, on top of which one existing solidly in my wheelhouse of guitar music. Garage-y, loud, and at times vaguely psychedelic. Weep Wave's S.A.D. – of course, the widely-used acronym for seasonal affective disorder – is heavy on shifting textures in its music, which makes its theme of dealing with the changing seasons wildly appropriate both musically and lyrically.
Opening with a short acoustic number barely on the right side of mournful, "Columbia Calling" finds strings being struck and harmonica being blown with enough force to not require a microphone to hear it on the far end of a room. Frontman Dylan Fuentes sings of whispering freeways and shouted lullabies, of inertia leading him to a concrete grave.
"This city crawled from the sea," he sings to begin the narrative which drives the King Gizzard and the Lizard Wizard-esque sprint of "Welcome Home," cutting into a motif revisited frequently on the first side of the album's crystal blue vinyl. During the main portion of the song, a cold front floats in from the Columbia Basin, while traversing the streets of Queen Anne becomes a shiver-inducing activity. Summer is no stranger to a chilly day or two here, but the past few years have found them harder to come by.
"Downtown" is the journey of an aimless bus ride, where "pretty people [are] attracted to where the city's tall," finely crafted jawlines in the air. The buoyant rock song conveys the feeling of being boxed into a city tightly crammed with day jobs and side hustles just to be able to breathe the city's air, where the sun acts as a fairweather friend.
II. FALL
So many shades of brown and yellow. Cars kick up the dust of dead leaves; leaf blowers roar for a little longer than usual. I was born in early October, so seeing pumpkins and gourds on doorsteps and crisp air always feels like kind of a homecoming to me. In astrology they call it a solar return; maybe it's appropriate I think about plants and trees shedding their skin, the death required for all things to start anew. The extinguishing of birthday candles adjacent to the plastic skeletons hung on the porch by the door. Husks of candy corn being sheared for harvest. Bringing the flannels out of the closet for their monthslong dance in the spotlight.
"Downtown" seamlessly transitions into dark clouds and the slow rot of "Raindrop Thoughts," ending with feedback and the sound of showers falling on the city streets, followed by a soothing "Cat Nap" of acoustic guitar, glockenspiel, and the warm words of a friend. The voicemail ends with the clicking of an answering machine -- an archaic touch -- and someone shuffling out of the door.
Another day, another hustle.
Side A closes with "Losing Sleep," with the same folk presentation and melody with a baroque twist; Fuentes rasping about teeth grinding into dust within the throes of insomnia and the loneliness which settles into a person's bones as they stare at the ceiling in the dark.
A rattling heater is the only sound coursing underneath those deafening thoughts. Thanks for listening.
III. WINTER
I don't really have a winter coat. I most certainly have a jacket for colder weather, but this winter has been the coldest, by a wide margin, of any I've experienced since shuffled here with a duffle bag and bright red goose down coat twenty years ago. More snow has fallen than I've seen in years; I wore my socks and worked from home, looking out of the window and taking breaks directly in front of my space heater before mustering the courage to head into the kitchen and cook some shrimp and grits or heat up a frozen pizza.
I went to my doctor yesterday and told him I had been depressed; particularly between the months of December and January. He mentioned the notion of seasonal affective disorder without calling it out by name; he told me he has a lot of patients who only take their Prozac in the wintertime. He knows about my history with depression but wasn't really concerned it was back for good, especially when I told him I was feeling better. "It's difficult when it's so cold, or when the sun sets in the middle of the afternoon," he tells me. "A lot of people's bodies change with the season."
The city returns to swallow us whole on "Concrete," our souls being sold to the highest bidder for pennies on the dollar and not being charged a head tax for raising the cost of living to an unmanageable degree. "Sea of Faces" alternates between tempos; punkish rave-up and an eerie blooping sound which sounds like the computer from Lost in Space was trying to recreate a spooky 60s television theme song. The movement in faster tempo is thrilling in the way an old movie chase scene is thrilling. There is an element of danger which feels more like a joyride than something potentially life-ending. The lyrics are almost sung in a robotic tone, regarding bodies feeding themselves to the city.
Even though it doesn't rain nearly as much as outsiders like to say it does, here in Seattle, the rain is indeed never too far away.
"Winter Coat" is like the final thrash of depression before the weather starts getting nicer and everybody is wearing cardigan sweaters and long-sleeved oxfords outside. When you don't have your space heater running at 76 degrees even while you're sleeping. The lyrics of the song read as straight-up depressed by the rain; staying in bed all day, logging the depth of your psyche. The guitars are caustic, splitting apart from feedback.
IV. SPRING
Spring breakups are weird. You are headlong into the celestial, flowery rebirth of every calendar year, while you are going through this greyscale fissure of a relationship. In spring the rebirth that comes after arrives at an unsympathetic pace. There's no time to really ruminate on what has died when everything around you is springing out of the ground where you buried things.
The pedals from the cherry blossoms that line up the length of the road of my house fly in the breeze and fall on the street like snow. The cars kick those pedals right up and they get stuck to the windshield of my car as it's parked on the curb.
"A BreakUp Song" feels interconnected to "Winter Coat," which suggests the aforementioned fissure began to break and peter out when the temperatures outside were still frosty and disagreeable.
The capitalist blues Fuentes sings of are borne out of the emotional and structural disaster songs where everything falls apart. But here, the things facing collapse are viewed as unimportant, breaks the financial system could stand to endure, like the stock market trade. There's always been something about it, a few things, that have created and bolstered my lifelong suspicion of what it stands for.
"King Grow" documents a cycle ("Drive to work/Make the money/To buy the gas/To drive back to work"); in terms of influence, it kind of reminds me of the mordant wit of Cobain. Whether or not Weep Wave was intentionally trying to write a Nirvana song doesn't matter, especially when the song gradually speeds up the tempo and keeps the song at this pace. It ends up sounding like a different song entirely.
Afterward, it does become a different song entirely. "Germinate" keeps a martial percussive element, a song about the ash from wildfires falling like dust right into our faces and shedding skin. Summer is coming again.
The "Hum of the Powerline" keeps the city dweller awake at night. The whispering freeways from "Columbia Calling" are back in Fuentes' dreams of being taken away to a faraway place, while the triumphant guitars and drums eventually become submerged.
V. NATURAL DISASTER
In the early years of my life, so far away it feels like it came from another life entirely, I stood in a doorway as Hurricane Hugo ravaged the region I lived in and knocked down a tree into my driveway. In spite of this or maybe because of it, I don't really have a fear of the threat of the planet's foul moods. It's much like those of our own bodies; we have to expunge that negativity so that it doesn't fester inside of us and rot us from the inside or cause a fatal explosion.
Whatever the earth does is what the earth does. We are guests on this plane; we make a home of it the best way we can, but eventually we shuffle away and it still remains. It scares me more to think of the idea of Earth ceasing to exist rather than my own body.
The final track of this journey – titled "Mt. Tahoma Erupts Kills Us All" –  finds the field recording of a man threatening to be devoured by a vengeful planet earth. That's the thing that amazes me when people think humankind is stronger than the planet itself. The sonically loopy and clattering instrumental makes me think about this idea, sounding like if latter-day Flaming Lips lived in Seattle to witness it become a sealed tomb.
"I've got the wrong idea; there's got to be something to tell my grandkids about," takes on a new meaning when placed in this context. What are we possibly going to tell our grandkids about this city, about how the weather influences its character, when we're trapped inside an Amazon Sphere or on the outside looking in?
---
New and News
ArtistTrust's 2018 Annual Artist Survey is Now Available for Viewing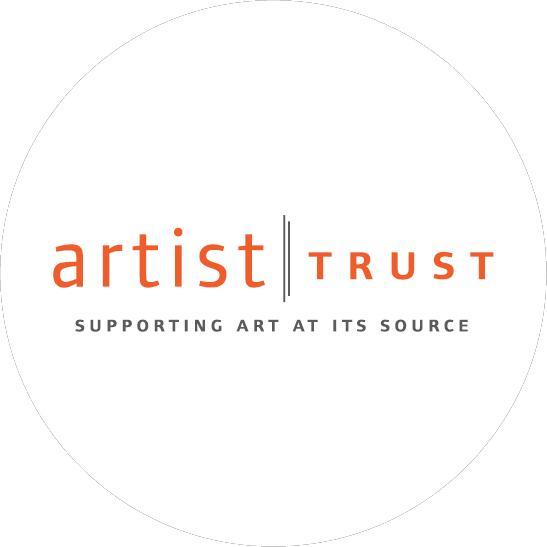 From the Artist Trust website: 
During the summer of 2018, 1,801 artists from across Washington State participated in the Artist Trust Annual Survey. Results of this annual survey allow us to better understand the artists we serve and share information from responding artists with other artist-serving organizations. With greater knowledge about the needs of artists around the state, we can all work to provide better support and further elevate the voices of Washington's artists.
Respondents to the 2016 & 2017 Annual Artist Surveys indicated a high need for trainings on promoting their work and building audience, in addition to topics like pursuing opportunities and business management. In 2018, respondents expressed the same needs and were given the opportunity to provide more personal context through open response fields.
We invite you to read and share the findings of the full report, which you can find here. A quick one-page snapshot can be found here. 
Knife Knights Share Video for "My Dreams Never Sleep" (NSFW Warning)
On the heels of announcing a North American tour in April and May, Knife Knights have delivered a video for what is, my humble opinion, the neon shimmering highlight of their excellent 2018 album 1 Time Mirage, "My Dreams Never Sleep." Animated by Joe Garber, the hallucinatory clip navigates through various pathways and realms, just like the group themselves. I can't really talk about my favorite of those pathways here. This is a family site. (I kid, but also don't want to spoil the best part of the video.)
Knife Knights will be playing Tacoma's Elks Temple on April 25th. Bring LSD.
Your Heart Breaks Shares New Single "Late Nights in the Lab"
The awesomely titled Drone Butch Blues is, according to its press release, "a queer concept album based on the writings of historic and contemporary GLBTQI authors. With a focus on stories surrounding the queer community, Drone Butch Blues touches on topics of secret and forbidden love, sex with strangers, the lives of hustlers, the impact of AIDS on homosexuals, historic events and rebellion all interwoven with the personal narrative of Clyde Petersen. Striving to examine the contemporary gap between generations of queers and their elders, Petersen turns to written materials to find buried remnants of gay culture and creative, vibrant humans, lost to the plague of AIDS. What emerges from this exploration is Drone Butch Blues, the 9th full-length album from a twenty-year career as Your Heart Breaks."
Drone Butch Blues drops April 26th.
---
Live and Loud: This Month's Recommended Shows
March 7: Laura Veirs and Brenda Xu at Tractor Tavern
March 8: Spirit Award, Sloucher, and Oliver Elf Army at Lo-Fi
March 16: Actors, Bootblacks, and Ex-Kids at Central Saloon
March 21: "BBQ" Mark Sultan, Sinister Six, and Sir Coyler & the Asthmatics at the Funhouse
March 22: Naked Giants, Emma Lee Toyoda, and Gypsy Temple at Neumos
March 22: Snuff Redux, Spesh, and Chris Cheveyo at Clock-Out Lounge
March 30: Naomi Punk, Big Bite, and Hotline TNT at Kame Hou$e 206